Gain the Technical Skills to Stand Out in the World of AI
Artificial intelligence is poised to drive the next generation of global innovation. The need for skilled AI professionals is greater than ever, with 97 million new AI-related jobs expected globally over the next two years.6 The UT Austin online master's degree in AI prepares you to stand out in this fast-growing field through one of the first AI master's programs available 100% online.
Learn AI Insights from 
Expert UT Austin Faculty
Be Among the First to Graduate with an Online Master's in AI
Affordable, Advanced Degree Priced at $10,000+ Fees7
Curriculum
The online AI master's coursework covers a range of highly sought after skills to prepare you to lead AI innovations across a variety of industries, from engineering and medicine to finance and project management.
You will study reasoning under uncertainty, ethics in AI, case studies in machine learning, and more from some of UT Austin's world-class faculty and collaborate with fellow students.
Featuring on-demand lectures and weekly release schedules, these asynchronous, instructor-paced courses are designed to be accessed on your schedule, from wherever you are.
6World Economic Forum, The Future of Job Report 2020-2025. Accessed January 2023. 
7International student fees and late registration fees may apply.
Ethics in AI (required)
+
nine elective courses
=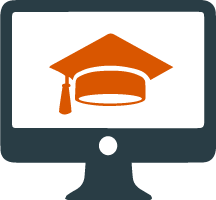 Ten Courses
The online master's degree in artificial intelligence is a 30-hour program consisting of 3 hours of required courses and 27 hours of electives. Each course counts for 3 credit hours and you must take a total of 10 courses to graduate. It is recommended that MSAI students complete the required and foundational courses in the beginning of their program before completing their elective courses.
Required and Foundational Courses
Elective Courses
Important Dates
Fall Application
Application Opens
December 15
Spring Application
Priority Deadline
August 15
Final Deadline
September 15
Please note: Applying to UT Austin is a twofold process. We recommend that applicants apply to UT Austin before the priority deadline. This is to ensure their materials are processed in a timely manner.