Gain the Knowledge You Need to Accelerate Your Career
Computer science is driving innovation in technology, finance, healthcare and beyond. The UT Austin online master's degree in computer science gives you the skills to design, develop, and optimize the technologies we use to create, communicate and serve.
Gain Critical CS Skills to Meet Industry Demand
Earn Your Degree From a 
Top-Ranked CS School1
Affordable, Advanced Degree 
Priced at $10,000+ Fees2
Curriculum
The UT Austin online CS master's curriculum incorporates cutting-edge foundational coursework in computer science to help you develop a strong understanding of the field that can be directly applied to your career.
Our elective courses focus on content that is in high demand within the tech industry, including advanced operating systems, programming languages, online learning, optimization and machine learning. A variety of electives allow you to personalize your education.
Taught by tenured UT Computer Science faculty — many of whom are award-winning leaders in the CS research community — the MSCS program offers rigorous training to expand your expertise, and elective options tailored to your interests.
1Top Computer Science Schools, U.S. News & World Report, Ranked 2022-2023. 
2International student fees and late registration fees may apply.
three required courses
+
seven elective courses
=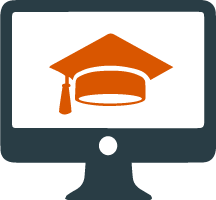 Ten Courses
The online master's degree in computer science is a 30-hour program consisting of nine hours of required courses and 21 hours of electives. Each course counts for 3 credit hours and you must take a total of 10 courses to graduate. To complete your 3 required courses, you must take one course from each of the Theory, Systems and Applications course categories.
Note: each course is 3 credit hours
Applications Courses
Theory Courses
Systems Courses
Elective Courses
Important Dates
Fall Application
Application Opens
December 15
Spring Application
Priority Deadline
August 15
Final Deadline
September 15
Please note: Applying to UT Austin is a twofold process. We recommend that applicants apply to UT Austin before the priority deadline. This is to ensure their materials are processed in a timely manner.